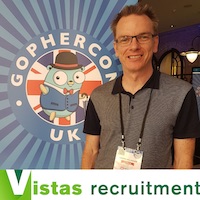 Senior/Lead Engineer

through Vistas Recruitment
Remote

› 100% remote position (in European timezone)
(Posted Dec 2 2021)
About the recruiter
Martin was the first recruiter to specialise in Go (since 2015) and we believe the best!
He works as an independent recruiter and as such provides a highly personal and knowledgeable service to candidates and clients alike.
Trained as a software engineer, he has extensive experience in recruitment (over 25 years) and has built up a great network of companies across the UK & Europe looking to hire Gophers.
He's also active in the Go community, regularly sponsoring conferences and meetups.
Salary
£75,000 - £85,000 Per Annum
Job description
Location: Remote (UK/EU)
Type: Permanent
Salary: £75,000 - £85,000 Per Annum
Do you want to work in global intelligence and cyber security?
My client is a well-established global intelligence and cyber security consultancy. They have a truly global business with  internation offices. Technology sits at the heart of their business and is central to their growth strategy. Their existing digital solutions include a secure report-management application, an integrity and reputation monitoring service, a security risk platform and an intelligence collection platform.
As part of a digital transformation of the business they are now establishing an internal engineering function and have asked me for help in finding one of their initial key hires - a senior/lead engineer with a strong understanding of Go.
You will work closely with the Digital and IT teams and their external development partners to develop and support a suite of applications for their Corporate Intelligence team.
In particular you will:
- Work closely with architects, developers and product team to design and deliver solutions that meet business needs
- Become a domain expert across their core products managed on the AWS platform: a client-facing web application built using the Symfony PHP framework with associated microservices built in Golang and an internal facing intelligence platform (Golang/React)
- Build a close working relationship with IT/Information Security and external partners to ensure solutions are robust, secure and scalable
- Manage automated lifecycle operations including build, test, integration and deployment pipelines
- Collaborate with internal teams to develop best practices for web application development and systems integrations across the business
- Contribute to 'build or buy' decisions regarding technology selection
Ideally you will have:
- 7+ years' engineering experience in an enterprise software development environment
- Demonstrable experience of ground-up application design, architecture, development and integration
- Solid experience in Golang, PHP and Amazon Web Services, including but not limited to EC2, RDS, SQS, S3 and KMS.
- ElasticSearch/ELK, Symfony, Python, ReactJS.
- Demonstrable knowledge of and interest in secure development practices
- Experience hiring, managing and mentoring junior developers
They have a great benefits package.
You must be in UK or EU.
There is a strong preference for candidates already based in the UK with a willingnessto come to the office now and again.
Apply directly through Vistas Recruitment with this form
[Privacy policy]