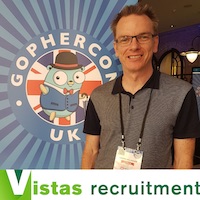 Backend Developer (Remote - US timezones)

through Vistas Recruitment
Remote

› 100% remote position (in US or Canada)
(Posted Apr 7 2021)
About the recruiter
Martin was the first recruiter to specialise in Go (since 2015) and we believe the best!
He works as an independent recruiter and as such provides a highly personal and knowledgeable service to candidates and clients alike.
Trained as a software engineer, he has extensive experience in recruitment (over 25 years) and has built up a great network of companies across the UK & Europe looking to hire Gophers.
He's also active in the Go community, regularly sponsoring conferences and meetups.
Salary
$100,000 - $120,000 Per Annum
Job description
Location: Remote (US timezones)
Type: Permanent
Salary: $100,000 - $120,000 Per Annum
Want to work for an exciting, well-backed start-up - already beating revenue targets?
Do you enjoy building data integrations and pipelines?
Want to work fully-remotely?
My client is a start-up based in the USA, which is on a mission to automate market research. They are well-backed and ahead of revenue targets.
They have asked me to find a backend Go developer to join their small team (currently 3 engineers) to get involved in tasks such as:
- Building 3rd party integrations and data pipelines
- Designing and implementing API endpoints and resolvers in Go
- Managing the hosting environment and performing database changes
- Collaborating with the team to turn business requirements into performant executable logic and algorithms
The stack comprises of Go, PostgreSQL, AWS, GraphQL, React
Ideally you will have:
- At least 3 years' experience with a static programming language, with a strong preference for Golang
- developed APIs in a production environment, with a strong preference for demonstrated GraphQL experience
This role is fully-remote for candidates located in US/South America Timezones
US-based candidates will benefit from:
- Health insurance (medical, dental, vision) with 100% premium covered
- Generous PTO / sick leave
- Flexible, remote WFH culture
- A work-from-home credit to help with office expenses
Apply directly through Vistas Recruitment with this form
[
Privacy policy
]