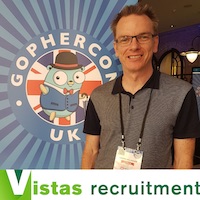 Senior Go Engineer (web3) - Remote Worldwide*

through Vistas Recruitment
Remote

› 🌐 Worldwide, 100% remote position
(Posted Jan 7 2023)
About the recruiter
Martin was the first recruiter to specialise in Go (since 2015) and we believe the best!
He works as an independent recruiter and as such provides a highly personal and knowledgeable service to candidates and clients alike.
Trained as a software engineer, he has extensive experience in recruitment (over 25 years) and has built up a great network of companies across the UK & Europe looking to hire Gophers.
He's also active in the Go community, regularly sponsoring conferences and meetups.
Salary
€70,000 - €120,000 Per Annum
Job description
Location: Remote (Worldwide)
Type: Contract
Salary: €70,000 - €120,000 Per Annum
Want to use Go to help build web3 infrastructure?
Want to work in a globally distributed team of engineers, economists and cryptographers?
My client, is a remote-first, service company that builds Web3 infrastructure for some of the most ambitious companies in the field. They develop infrastructure for web3 mass adoption. They help technology companies improve and integrate the core technologies of web3 to meet the climbing demands for scale and performance. It's a small company, set for growth. They organise themselves into autonomous teams that have control over design of process and choice of tools. They trust their teams to deliver and let them work in the way that suits them best.
They've asked me to find an experienced Golang engineer - someone who has built mission-critical applications, to help them design, implement and document robust backend systems. You are someone who can build projects from scratch, who is capable of working alone or in small teams, and who enjoys solving new problem that didn't exist before. It would be great (but not a strict requirement) if you have an interest in blockchain and crypto protocols as well as having infosec knowledge.
Must have requirements:
- In-depth knowledge of P2P networking
- Experience building low-latency, highly distributed systems as opposed to the APIs in front of them
- Prototyping and architecture experience
- At least 5 years' backend development experience
- At least 3 years' commercial Go experience
- Excellent communication skills and experience working in a globally distributed team
This is a remote only role - no visa sponsorship possible.
As they don't have an entity outside of their country, they will engage you on a B2B basis.
\\* At the moment my client is unable to accept applications from Russia or Iran.
Apply directly through Vistas Recruitment with this form
[Privacy policy]