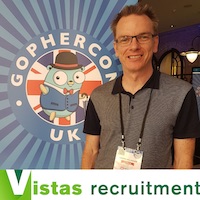 Senior Go Engineer (UK/EU)

through Vistas Recruitment
Remote

› 100% remote position (in European timezone)
(Posted Jul 7 2021)
About the recruiter
Martin was the first recruiter to specialise in Go (since 2015) and we believe the best!
He works as an independent recruiter and as such provides a highly personal and knowledgeable service to candidates and clients alike.
Trained as a software engineer, he has extensive experience in recruitment (over 25 years) and has built up a great network of companies across the UK & Europe looking to hire Gophers.
He's also active in the Go community, regularly sponsoring conferences and meetups.
Salary
€70,000 - €110,000 Per Annum
Job description
Location: Remote (BST-CEST)
Type: Permanent
Salary: €70,000 - €110,000 Per Annum
Do you want more autonomy and responsibility?
Want to use Go to grow a global marketing software automation business?
My client is in the business of marketing software automation. They are a profitable company with offices in Australia and USA and an exciting future ahead. They have asked me to find a senior Golang engineer, based in the UK or EU, who can join their global team (developers in Australia and US) and help build scalable and maintainable Go microservices systems to help grow their company. This will be a fairly autonomous role bridging the times between Australia and the US. You need to be capable of solving issues or problems that may arise and be comfortable with asynchronous communication and working.
The right candidate will be able to demonstrate previous experience of significantly contributing to past teams, successfully getting products to production and beyond. You will have an in-depth understanding of Go and its paradigms, idioms, and syntax.
You will get involved with things like designing and implementing integrations with external systems, code reviews etc
You need to enjoy getting stuff done and have a good balance of pragmatism and idealism.
This is a fully remote role with a high degree of autonomy. If this sounds like the sort of challenge you are looking for, feel free to apply or email martin@vistasrecruitment.com
Apply directly through Vistas Recruitment with this form
[
Privacy policy
]