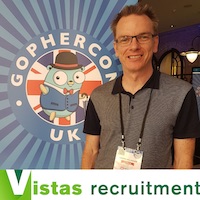 Backend Engineer (Remote - CET +/- 3)

through Vistas Recruitment
Remote

› 100% remote position (in European timezone)
(Posted May 13 2021)
About the recruiter
Martin was the first recruiter to specialise in Go (since 2015) and we believe the best!
He works as an independent recruiter and as such provides a highly personal and knowledgeable service to candidates and clients alike.
Trained as a software engineer, he has extensive experience in recruitment (over 25 years) and has built up a great network of companies across the UK & Europe looking to hire Gophers.
He's also active in the Go community, regularly sponsoring conferences and meetups.
Salary
£50,000 - £75,000 Per Annum
Job description
Location: Remote (+/- 3hrs CET)
Type: Permanent
Salary: £50,000 - £75,000 Per Annum
Want to work at a remote-first company?
Do you have a passion for building performant and reliable systems?
Do you enjoy producing simple solutions to complex problems?
My client, a remote-first tech company, is on a mission to build a disruptive SaaS to help companies reduce the time spent on payroll by up to 80%.
They have asked me to help them find some backend engineers to help build flawless features while challenging their thinking on software archtitecture. Their stack consists of React, Redux, GraphQL, Golang, PostgreSQL, Docker and Kubernetes.
You will be someone with a passion for building beautiful products, and always up for a challenge. Your aim will be to find simple solutions to complex problems.
You'll need to have:
- a few years of professional experience in software engineering, working in a team environment;
- experience in backend development, building, running and debugging web applications;
- knowledge of statically typed languages
- familiarity with defining and building GraphQL APIs;
The company's working hours are within 3 hours of CET. Ideally you are based in this timezone.
Apply directly through Vistas Recruitment with this form
[
Privacy policy
]