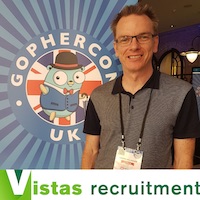 Senior Backend Engineer - Remote

through Vistas Recruitment
Remote

› 100% remote position (in European timezone)
(Posted Mar 11 2021)
About the recruiter
Martin was the first recruiter to specialise in Go (since 2015) and we believe the best!
He works as an independent recruiter and as such provides a highly personal and knowledgeable service to candidates and clients alike.
Trained as a software engineer, he has extensive experience in recruitment (over 25 years) and has built up a great network of companies across the UK & Europe looking to hire Gophers.
He's also active in the Go community, regularly sponsoring conferences and meetups.
Salary
€70,000 - €100,000 Per Annum
Job description
Location: Remote (+/- 4 hr CET)
Type: Permanent
Salary: €70,000 - €100,000 Per Annum
Fancy working with drones and lasers?
Want to take cutting-edge web tech to its limits?
And do all this remotely with Go? My client is a growing, profitable company at the forefront of "Drone Software as a Service™" technology. Their mission is to automate the entire process of drone-based utility inspections. They have created one of the world's most advanced aerial sensor systems and their technology powers the automatic collection and analysis of unmanned aerial inspection data.
They have asked me to find a senior Go engineer to help continue to build a highly scalable, available platform at the foundation of everything they do. There are many interesting and challenging tasks. Their domain includes capturing, geo-referencing, analyzing and processing gigabytes of 3D point cloud and imaging data in near real-time and visualizing results with a modern web UI.
Their stack is a microservices architecture consisting of Go, Python, Kubernetes, AWS, Kafka etc
Ideally you will:
- have good skills in multiple programming languages, such as Go, Python, Scala, Javascript
- have some experience of the technology stack
- be able to write functional code
- have great communication skills
- have experience in creating restful microservices
- have a devops attitude
- be capable of hunting down issues in different OSI layers
This is a fully remote role, as long as there's at least a 4 hour overlap with UTC+2
Apply directly through Vistas Recruitment with this form
[
Privacy policy
]