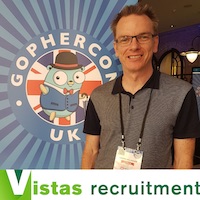 Full-Stack (Go, React) Engineer - Fully Remote

through Vistas Recruitment
Remote

› 100% remote position (in Europe timezone)
(Posted Feb 8 2021)
About the recruiter
Martin was the first recruiter to specialise in Go (since 2015) and we believe the best!
He works as an independent recruiter and as such provides a highly personal and knowledgeable service to candidates and clients alike.
Trained as a software engineer, he has extensive experience in recruitment (over 25 years) and has built up a great network of companies across the UK & Europe looking to hire Gophers.
He's also active in the Go community, regularly sponsoring conferences and meetups.
Salary
£40,000 - £70,000 Per Annum
Job description
Location: Remote (+/- 3hrs CET)
Type: Permanent
Salary: £40,000 - £70,000 Per Annum
Have you got full-stack experience?
Want to work at a remote-first company? 
Do you enjoy producing simple solutions to complex problems?
My client, a remote-first tech company, is on a mission to build a disruptive SaaS to help companies reduce the time spent on payroll by up to 80%.
They have asked me to help them find 2 Full-Stack Engineers to help build flawless features across their entire stack, which consists of  React, Redux, GraphQL, Golang, PostgreSQL, Docker and Kubernetes.
You will be someone with a passion for building beautiful products, and always up for a challenge. Your aim will be to find simple solutions to complex problems. 
You'll need to have:
- a few years of professional experience in software engineering, working in a team environment;
- experience in full stack development, building, running and debugging web applications;
- knowledge of modern JavaScript frameworks such as React & Redux;
- familiarity with defining and building GraphQL APIs;
- confidence with backend development and working with relational databases, preferably in Golang and PostgreSQL
The company's working hours are within 3 hours of CET. Ideally you are based in this timezone.
Apply directly through Vistas Recruitment with this form
[
Privacy policy
]