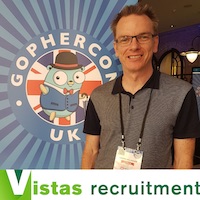 Backend Engineer - (Visa Sponsorship Possible) through Vistas recruitment
London, United Kingdom
🇬🇧
(Posted Feb 3 2020)
About the recruiter
Martin was the first recruiter to specialise in Go (since 2015) and we believe the best!
He works as an independent recruiter and as such provides a highly personal and knowledgeable service to candidates and clients alike.
Trained as a software engineer, he has extensive experience in recruitment (over 25 years) and has built up a great network of companies across the UK & Europe looking to hire Gophers.
He's also active in the Go community, regularly sponsoring conferences and meetups.
Salary
£60,000 - £75,000 Per Annum
Job description
Location: London
Type: Permanent
Salary: £60,000 - £75,000 Per Annum
Do you look at systems as a whole?
Do you enjoy breaking problems down to solvable tasks?
Do you want to work autonomously in a friendly, flexible, successful company?
My client is an innovative provider of smart payment and utility monitoring systems for the low-carbon energy market. They manufacture their own embedded devices and manage their onsite Internet-of-Things network. Proud of their award-winning team and products, they maintain high standards and right now they need you on their team!
Your Mission:
To develop the next generation of their software solution and to stay at the pinnacle of current technology, working in an agile team using extreme programming techniques, building out advanced modular software. This will include adding modules to an existing service oriented architecture, improving API efficiency and usage, and enhancing the ease of system use for both internal and external customers.
The skills you will need:
- Core Linux knowledge
- Strong current API design
- Experience using Go / Golang, gRPC
- Knowledge of Git
- Comfortable reading Python and PHP code
- Good Architecture / Design or UI Design skills
- Characteristics:
You'll have a solid track record of Software development in an open source environment.
Knowledgeable in a range of software tools and languages.
Naturally inquisitive, actively participating in the architecture of software and hardware, recommending and implementing relevant tools and new processes.
Confident and self-motivated, comfortable within an SME, you'll have an excellent interpersonal style, able to operate effectively as part of a dynamic team.
Apply directly through Vistas recruitment with this form
[
Privacy policy
]