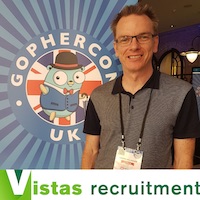 Backend Go Engineer - Remote (UTC-UTC+8)

through Vistas Recruitment
Remote

› 🌐 Worldwide, 100% remote position
(Posted May 19 2023)
About the recruiter
Martin was the first recruiter to specialise in Go (since 2015) and we believe the best!
He works as an independent recruiter and as such provides a highly personal and knowledgeable service to candidates and clients alike.
Trained as a software engineer, he has extensive experience in recruitment (over 25 years) and has built up a great network of companies across the UK & Europe looking to hire Gophers.
He's also active in the Go community, regularly sponsoring conferences and meetups.
Salary
$5,000 - $8,000 Per Month (plus 20% bonus paid quarterly) USD
Job description
Location: Remote - (UTC - UTC+8)
Type: Contract
Salary: $5,000 - $8,000 Per Month (plus 20% bonus paid quarterly)
Fancy building high-performance systems in Go in the world of online gaming?
Happy to work fully remotely?
My client is a US headquartered company with a mission to improve the world of competitive online gaming.
They have asked me to find medior and senior Go engineers with at least 3 years Go to help build secure, high performance systems to help make the world of online competitive gaming secure and fair.
You will work on a fully remote basis in a remote first company with a distributed team of over 60 engineers. You will be engaged on a B2B basis only.
Requirements
- 3+ years commercial Golang experience
- 5+years commercial software development experience
- Experience developing modern APIs with microservices and event-based platforms
- Excellent knowledge of persistence stores
In addition to monthly salary you receive:
- 4-5 weeks of paid holidays plus major public holidays in the country where you live
- $1,200 reimbursement for equipment purchase.
- Two promotion cycles every year
- 20% bonus of base salary paid quarterly (performance related)
Apply directly through Vistas Recruitment with this form
[Privacy policy]