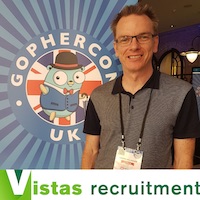 Senior Go Software Engineer - (Remote Poss)

through Vistas Recruitment
Remote

› 🇪🇺 100% remote position (in European timezone)
(Posted Nov 22 2022)
About the recruiter
Martin was the first recruiter to specialise in Go (since 2015) and we believe the best!
He works as an independent recruiter and as such provides a highly personal and knowledgeable service to candidates and clients alike.
Trained as a software engineer, he has extensive experience in recruitment (over 25 years) and has built up a great network of companies across the UK & Europe looking to hire Gophers.
He's also active in the Go community, regularly sponsoring conferences and meetups.
Salary
£80,000 - £115,000 Per Annum
Job description
Location: Remote - EMEA
Type: Permanent
Salary: £80,000 - £115,000 Per Annum
Do you enjoy working on high traffic applications?
Do you want to work in a remote-first company? I have been asked to find a senior engineer with experience working at scale (1M+ requests per day minimum) who enjoys solving the problems and challenges such an environment produces. You'll have responsibility and autonomy to help architect and develop their communication products and services.
My client is a world leader in the area of communication, enabling their customers to communicate at scale across a variety of platforms and applications. They are a scale-up company offering the dynamism and variety which that entails. They have a truly international and remote-first environment.
You need to have at least:
- 5 years' software engineering experience
- proven expertise and experience of highly-scaled applications
- excellent Go experience
Ideally you are based in the Netherlands, France, Germany, or Portugal. It may be possible for you to work remotely from elsewhere.
Apply directly through Vistas Recruitment with this form
[Privacy policy]