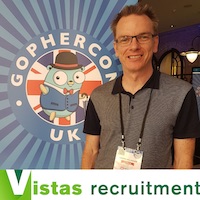 Backend Engineer - Remote - Europe (UTC-UTC+3)

through Vistas Recruitment
Remote

› 🇪🇺 100% remote position (in European timezone)
(Posted Aug 16 2022)
About the recruiter
Martin was the first recruiter to specialise in Go (since 2015) and we believe the best!
He works as an independent recruiter and as such provides a highly personal and knowledgeable service to candidates and clients alike.
Trained as a software engineer, he has extensive experience in recruitment (over 25 years) and has built up a great network of companies across the UK & Europe looking to hire Gophers.
He's also active in the Go community, regularly sponsoring conferences and meetups.
Salary
€50,000 - €80,000 Per Annum
Job description
Location: Remote (within Europe)
Type: Permanent
Salary: €50,000 - €80,000 Per Annum
Want to work REMOTELY for one of France's top start-ups?
Want to build an innovative product to be used by thousands of users?
Are you based within 2 hours of Central European time?
My client is a new bank - focusing on SMEs. They are extremely well funded and have gained over 100,000 clients in under 3 years. Their aim is to create a bank that companies will LOVE to use - easy, efficient and hassle-free .
They have asked me to find mid-senior Go engineers with production experience of large-scale, microservices architecture. Their backend stack/tools consist of Go, Kafka, Kubernetes, ELK, AWS.
This is a complex project with lots of scalability issues to solve. Other responsibilities include:
- Architecting and developing the services to enrich their APIs
- Supervising the technical aspect of the backend and participating in complex conception issues
- Improving the microservices architecture of their API
- Integrating data coming from different sources (including banking APIs and SaaS APIs)
- Participating in the development of our open-source and internal tools
They would like you to have:
- 5 years+ commercial engineering experience
- Mastery of Go
- Strong experience of Ruby, Java, Python, C or Scala
- Exposure to architectural patterns of a large, high-scale web applications and micro-services
- The ability to work in an organized manner with test coverage, and other best practices
Also, you need to have experience of working remotely.
They have a fantastic work environment and culture and plenty of perks.
Apply directly through Vistas Recruitment with this form
[Privacy policy]