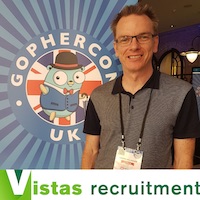 Go Software Engineer - Remote(UK/IRE/DEN/NL only)

through Vistas Recruitment
🇬🇧

United Kingdom

›

100% Remote
(Posted Jun 7 2022)
About the recruiter
Martin was the first recruiter to specialise in Go (since 2015) and we believe the best!
He works as an independent recruiter and as such provides a highly personal and knowledgeable service to candidates and clients alike.
Trained as a software engineer, he has extensive experience in recruitment (over 25 years) and has built up a great network of companies across the UK & Europe looking to hire Gophers.
He's also active in the Go community, regularly sponsoring conferences and meetups.
Do they allow remote work?
Remote work is possible, see the description below for more information.
Salary
£60,000 - £80,000 Per Annum
Job description
Location: 100% Remote
Type: Permanent
Salary: £60,000 - £80,000 Per Annum
For individuals based in UK, Ireland, Denmark or The Netherlands only
Do you want to have an influential Go development role in a small team?
Want to work remotely?
Want to work in a secure, cash-healthy company?
My client is a small, cash healthy company based in Surrey, UK who have built a fantastic roster of big-name clients, helping them to improve network availability, security and compliance. Using their products, network and security teams are able to centrally manage complex tasks across multi-vendor networks, helping them avoid costly outages, meet SLAs, automate network change, and reduce the ever growing burden of compliance and security audits.
They ship an on-premise Go monolith wrapped neatly in a Linux box every week and their customers love it!
They are looking for an experienced engineer to join their small team, to lead the transformation and growth of their mature Go application. This is a company where everyone from the top down understands the tech involved. The role is fully remote within UK, Ireland, Denmark or The Netherlands only.
About the role:
- Design, architect, and configure new and/or existing features/systems as required
- Planning future work/releases and actively develop core software
- Manage and delegate developer workload and execute code reviews
- Triage customer RFEs and maintain the development environment
- Run testing/debugging/benchmarking
- Manage CI/CD pipelines
- Function as the team lead by managing hiring, onboarding, and mentoring new development team members
- Set required software quality standards and ensure adherence by the team
- Deliver project status updates to leadership
You:
- have solid Go skills with experience in a commercial environment
- are familiar with networking concepts
- are familiar with administering a modern Linux server
- are familiar with virtualisation platforms (VMware, Amazon Web Services, Docker)
- have experience building REST APIs
- have excellent verbal and written English skills
- follow secure coding practices
Bonus if you have:
- an understanding of HTML, CSS, Javascript and single-page application development
- Familiarity with other programming languages (C, C++,Lua) and/or scripting (Perl, Python, bash)
- An understanding of encryption technologies
- Passion for debugging and benchmarking
PLEASE NOTE: Visa sponsorship or relocation is NOT possible for this role
Apply directly through Vistas Recruitment with this form
[Privacy policy]