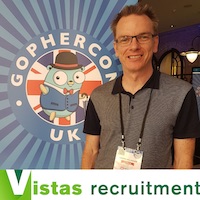 Backend Go Engineer - Remote (BST-CEST)

through Vistas Recruitment
Remote

› 100% remote position (in European timezone)
(Posted May 5 2022)
About the recruiter
Martin was the first recruiter to specialise in Go (since 2015) and we believe the best!
He works as an independent recruiter and as such provides a highly personal and knowledgeable service to candidates and clients alike.
Trained as a software engineer, he has extensive experience in recruitment (over 25 years) and has built up a great network of companies across the UK & Europe looking to hire Gophers.
He's also active in the Go community, regularly sponsoring conferences and meetups.
Salary
£55,000 - £75,000 Per Annum
Job description
Location: Remote (BST-CEST)
Type: Permanent
Salary: £55,000 - £75,000 Per Annum
Do you want to use Go to build an interesting product that delights its users and genuinely serves their needs?
Do you enjoy working in a collaborative, open and creative environment?
Do you want to work remotely? My client, headquartered in London, helps thousands of companies understand their key metrics at a glance. They have built lots of integrations with lots of various tools like Mailchimp, Salesforce, Zendesk etc. They have over 5000 happy customers and have built a sustainable, long-term business which genuinely values the importance of work-life balance,
They have asked me to find a Go engineer to join their backend team and work on either their platform or product team. Some of their recent work includes a new feature flagging system and a rewrite of their login and session management system.
They offer flexible working and fully remote working within the time zones BST- CEST.
The engineering team regularly have innovation days (about once per fortnight) where you have carte blanche to work on anything that interests you.
Apply directly through Vistas Recruitment with this form
[Privacy policy]