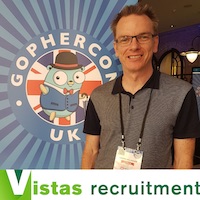 Go Engineer - London or Remote(UK/EU)

through Vistas Recruitment
Remote

› 100% remote position (in European timezone)
(Posted Apr 19 2022)
About the recruiter
Martin was the first recruiter to specialise in Go (since 2015) and we believe the best!
He works as an independent recruiter and as such provides a highly personal and knowledgeable service to candidates and clients alike.
Trained as a software engineer, he has extensive experience in recruitment (over 25 years) and has built up a great network of companies across the UK & Europe looking to hire Gophers.
He's also active in the Go community, regularly sponsoring conferences and meetups.
Salary
£60,000 - £85,000 Per Annum
Job description
Location: London or Remote(UK/EU)
Type: Permanent
Salary: £60,000 - £85,000 Per Annum
Do you want to shape an early stage tech business?
Do you want to be in at the beginning of something? My client, a well-backed, early stage start-up, have an innovative product already gaining traction. They are focusing on the automation of market data rights management within the fintech space - licensing etc.
Their stack includes Go and AWS with a graph-based dB stack.
They are looking for their second Go engineer(mid-senior) - a self-starter, who enjoys the start-up environment and who can shape their technology and grow with the company. You'll be at the core of the MVP product development. Their plan would be to grow the engineering team to 3 over the coming year.
In this role, you will:
- Be a hands-on software developer spending the majority of your time in code
- Be responsible for all aspects of your projects across the full lifecycle, including:
          Scoping project MVP
          Technology selection and architecture design
          Engineering processes, quality and testing
- Work as part of the team, sharing and reviewing ideas, mentoring and guiding junior team members through technology architecture and implementation details
- Keep up to date with the evolving industry, embracing new languages and frameworks, containers and cloud, and not be afraid to dig deep and learn new things all the time
- Have an inquisitive and curious mind, often exploring the inner workings of the tools and libraries you use to understand how they work
The key skills and qualities needed for the role. You will:
- Proficiency in software development using Go language ecosystem
- Working knowledge of Docker and GIT
- Demonstrable understanding of best practices in software engineering, including testing and continuous integration
- Familiarity with Linux environment
- Enjoy participating in the full lifecycle of the software product: from idea and design, via implementation and user interface, to operational considerations
- Be able to write clean code, take pride in your work and value simplicity, testing and productivity as part of your daily routine, always putting user experience first. 
Apply directly through Vistas Recruitment with this form
[Privacy policy]