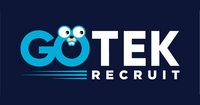 Golang Software Engineer

at Go Tek - Professional Go(lang) Recruitment
Remote

› 🇪🇺 100% remote position (in European timezone)
(Posted Jan 20 2022)
Salary
£60,000 - £150,000+
Job description
Go Tek - Professional Go(lang) Recruitment
Here at Go Tek we are currently looking to speak with the best Golang professionals Europe has to offer! If you are actively looking for a change or simply keen to explore what else is currently out there, then we want to hear from you. Go Tek are currently servicing some of the biggest users of Golang in Europe and have built what were immature engineering teams into some of the most talent dense Golang environments out there.
We currently have vacancies in all of the below spaces;
- Fin-Tech
- Insure-Tech
- Crypto
- Entertainment
- Fashion
- Fast Food
Technologies our customers love;
- Golang
- AWS / GCP / Azure
- Docker / Kubernetes
- Microservices
- Terraform / CloudFormation
- Back-End; Golang / Rust / C / C++ / Python / C# / .Net
- Front-End; JavaScript / TypeScript / HTML / CSS
Most of the companies work on a "remote but reachable" basis so are available to work 100% remotely from anywhere in the EU.
Salaries and day rates range from company to company but to give you an idea we have placed people between the below;
- £60,000 - £150,000+
- £300/day - £800/day
I would say 90% of the people we speak with are happy in their current role but it's 5 minute conversations with companies like us that help to keep an eye on the market and explore what else is out there.
Nothing ventured, nothing gained...
To discuss all things Go(lang) recruitment simply send an up to date CV to cwilliams@gotekrecruit.com and we'll be in touch!