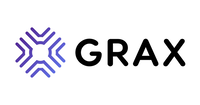 Backend Software Engineer (Remote)

at GRAX
Remote

› 100% remote position (in US or Canada)
(Posted Jan 3 2022)
Salary
$130,000 - $200,000
Job description
ABOUT GRAX
At GRAX, it's all about data. We help our customers protect and unlock their data's value. The most iconic companies in the world that we buy from daily, have in our pockets and rely on to power the internet, all use GRAX. For them, GRAX is the best way to unleash the power of their SaaS app data and use it to drive better business outcomes. With GRAX, customers can backup, archive, recover, and access their historical data anywhere at any time.
We are a remote-first organization founded in Boston, MA with distributed operations across the world. GRAX is a well-funded Series A startup led by serial entrepreneurs with a long history of success in the Salesforce ecosystem.
ABOUT THE ROLE
The Backend team builds and maintains the core distributed data pipeline that slurps data from SaaS APIs, secures it for safekeeping before transforming and routing it to its final destination. The product and engineering organization is led by veterans in cloud platform development, including some of the key architects behind Heroku. We value collaboration, communication and accountability.
You will:
Program mostly in Go (golang.org) within a group of experienced developers committed to learning, sharing and continual improvement.
Work closely with internal teams from PM through Customer Success - and occasionally directly with customers.
Own the full lifecycle of specific features and product areas from design to release
You have:
Experience with large scale data processing
Built or operated a large cloud service
Prior experience working with distributed systems with a focus on reliability and resiliency.
Extensive experience building on AWS, GCP and/or Azure.
Benefits
Fully Remote
Flexible PTO
Healthcare for you and your family
401K match
Awesome teammates
Inclusion Promise
GRAX embraces diversity and equal opportunity. We are committed to building a team that represents a variety of backgrounds, perspectives, and skills. We believe the more inclusive we are, the better our company will be.