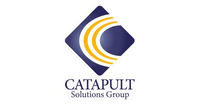 Golang Developer

at Catapult Solutions Group
Remote

› 100% remote position (in the US)
(Posted Nov 14 2021)
Salary
$115k-$185k+
Job description
Hey all! My name is Drew and I am a recruiter based in Dallas. Many of you may have likely worked with recruiters in the past but I am different because I am not looking to simply put butts in seats. Instead, I focus on building relationships with like minded people and I will be your advocate that acts as your eyes on the inside for what's out there in this rapidly growing market for labor. Not only am I here to make sure you are a good match for the client but vice versa. Anyways, I'm hiring Gophers for a completely remote position with a relatively new company that's on track to earn $3B this year. They are experiencing exponential growth and have a lot of money to throw around for the right people. The company is shooting into the stratosphere and this could be your chance to jump on and continue to grow your career while making a lot of money. So far, over 4 million people have downloaded their app and they have a 4.9 star review in the app store! They have another app which is the one are looking to work on, it's a legacy app and they want to take that and create something truly beautiful by moving from Python and shifting over to Go. Highly competitive compensation and client is willing to consider lower level as well as higher level candidates if they're a good fit, client will pay you what you are worth and are always open to negotiation for the right candidates. Python & AWS experience highly preferred. This company is a trendsetter and while I cannot divulge their name on here, I'd be happy to tell you all about who they are over the phone! If interested, please email your resume to drew.cumbey@catapultsg.com. Calls welcome as well, 469.281.9338. Candidates located in USA only please! I promise that I will not waste your time, that I will be 100% transparent, and that I will always act in your best interests. Job Description below.
As a part of the Brand Platform Engineering team, you will help us on our mission to be the largest digital marketing platform powered by influencers. Our platform currently empowers over 5,000 brands across the globe to engage with their desired audience through our network of over 100,000 influencers. We are looking for talented developers who are passionate about tackling challenging features and interesting problems at scale. You'll be working with a team of highly motivated and fast-moving professionals focused on creating an innovative new marketplace platform to connect brands to the right influencers through proprietary data and actionable insight.
Key Responsibilities:
* Architecting and developing web, software, and mobile apps.
* Building enterprise level system integrations.
* Coming up with feasible and practical solutions to tough problems.
* Write very high-quality code that is robust and easy to maintain with tests.
* Drive tasks to completion and take ownership of projects.
* Work and succeed in a fast-paced and agile development environment.
* Identify and drive improvements to our software and development processes.
* Conduct peer design/code reviews.
* Work with distributed teams across different time zones.
* Technical subject matter expert, who mentors fellow engineers, demonstrates technical experience and leads teams in solving challenging problems.
Qualifications:
* 5+ years of software development experience.
* History of designing and building highly scalable distributed systems and processes in a cloud environment.
* Experience with AWS systems such as ECS, Lambda, and RDS (among others).
* Experience working in a containerized environment (preferably Docker).
* 3+ years of experience writing services in Golang.
* Have built scalable internal and public-facing APIs (REST, JSON, HTTP).
* Experience integrating 3rd party API's (REST, OAuth).
* Comfortable shipping code multiple times per day.
* Strong technical leadership and mentoring skills.
* Ability to model and conceptualize the integrations across complex systems.
* Excellent verbal and written communication skills to both technical and non-technical audiences.
Nice to have :
* Experience with EMR, Redshift, S3, Glue ETL (Scala), Athena
* Experience with eCommerce platforms like Shopify and BigCommerce.
* Experience designing or building cart and checkout systems.
* Proven experience designing and scaling relational databases.
* Knowledge of domain-driven design.
Gophers, even if you feel that you are underqualified (or over) for this role...Contact me and we will find a role that is the right fit for you. It will be worthwhile for anyone with GO, AWS, or Python that lives in the U.S. to apply!