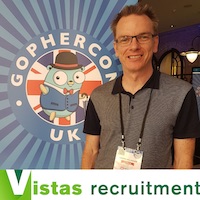 Senior Go Engineer - Fully Remote (UK/EUROPE)

through Vistas Recruitment
Remote

› 100% remote position (in European timezone)
(Posted Oct 15 2021)
About the recruiter
Martin was the first recruiter to specialise in Go (since 2015) and we believe the best!
He works as an independent recruiter and as such provides a highly personal and knowledgeable service to candidates and clients alike.
Trained as a software engineer, he has extensive experience in recruitment (over 25 years) and has built up a great network of companies across the UK & Europe looking to hire Gophers.
He's also active in the Go community, regularly sponsoring conferences and meetups.
Salary
€70,000 - €100,000 Per Annum
Job description
Location: Fully Remote (based in UK/Europe)
Type: Permanent
Salary: €70,000 - €100,000 Per Annum
Do you want to build high-quality, well-tested, production-ready solutions in Go?
Do you enjoy taking ownership?
Do you want to work in a remote-first company that values teamwork, trust, communication? My European-based client is building a next generation sports betting platform focused on performance, reliability, modularity and automation. It's already being used in Africa by a new sportsbook operator, and there are more implementations in the pipeline. Their services are expected to be able to handle millions of daily transations.
They have asked me to help them find Senior Go Engineers to help ensure the continuous improvement of their platform while the business scales. Their team is 100% distributed around Europe, and always has been. Therefore they understand how to organise a remote team. They get together 1-2 times per year for onsite meetings, which happen in various locations around Europe. Therefore you need to be located in Europe as well. They offer a great compensation package including bonuses and up to 35 days holiday per year (inc national holidays).
They would like you to have at least:
- An in-depth knowledge and experience of large-scale distributed systems
- A DevOPs mind set
- A deep understanding of microservices architecture, DDD, CQRS and SQL/NoSQL
- At least 3 years' Go experience
Apply directly through Vistas Recruitment with this form
[Privacy policy]