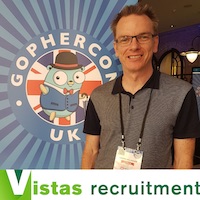 Senior Full Stack (Go) Engineer - Remote

through Vistas Recruitment
Remote

› 100% remote position (in European timezone)
(Posted Sep 29 2021)
About the recruiter
Martin was the first recruiter to specialise in Go (since 2015) and we believe the best!
He works as an independent recruiter and as such provides a highly personal and knowledgeable service to candidates and clients alike.
Trained as a software engineer, he has extensive experience in recruitment (over 25 years) and has built up a great network of companies across the UK & Europe looking to hire Gophers.
He's also active in the Go community, regularly sponsoring conferences and meetups.
Salary
€70,000 - €100,000 Per Annum (Equity plus unlimited holiday)
Job description
Location: Remote (UTC-UTC+3 hours)
Type: Permanent
Salary: €70,000 - €100,000 Per Annum (Equity plus unlimited holiday)
Do you want to help developers discover code in any form and improve their productivity?
Do you believe machine learning can empower better software development?
Do you want to do all this with Go?
My client is a stealth-mode start-up funded by Silicon Valley's top investors (First investors of Google, Zoom, Uber, Linkedin and Twitter). They are building an intelligent code discovery platform that enables developers to discover code in any form, benefit from contextual insights and improve their productivity.
They are building a world class, distributed team and have asked me to help them find exceptional Go-powered, fullstack engineers to help them build the platform. You're the right person for this role if you could ship an entire web application if you wanted to, but prefer working with others.
Their stack comprises:
- Go for the backend - data fetching piplelines, tooling
- Typescript, Svelte for the Frontend
- Python for machine learning
- PostgreSQL for data storage
- Google Cloud platform
- OpenSearch for the search engine
- Terraform for cloud automation
Ideally, you should have:
- Experience owning, shipping, and iterating on web products with a large user base
- Deep understanding of best practices in client-side web development and architecture
- Expertise with server side tooling & API design and development
- Ability to learn and evaluate new technologies quickly
- Expertise with Go
- Experience with Python
- Experience with JavaScript (Node/React), Svelte, TypeScript, GraphQL
- Experience deploying solutions in an Agile/DevOps CI/CD environment
In addition to competitive remuneration, they offer equity and unlimited holiday and sick leave.
Apply directly through Vistas Recruitment with this form
[Privacy policy]