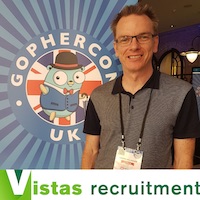 Remote Go backend Engineer (UK/EU Only)

through Vistas Recruitment
Remote

› 100% remote position (in European timezone)
(Posted Jun 17 2021)
About the recruiter
Martin was the first recruiter to specialise in Go (since 2015) and we believe the best!
He works as an independent recruiter and as such provides a highly personal and knowledgeable service to candidates and clients alike.
Trained as a software engineer, he has extensive experience in recruitment (over 25 years) and has built up a great network of companies across the UK & Europe looking to hire Gophers.
He's also active in the Go community, regularly sponsoring conferences and meetups.
Salary
£50,000 - £70,000 Per Annum
Job description
Location: 100% Remote
Type: Permanent
Salary: £50,000 - £70,000 Per Annum
You want to have an influential Go development role in a small team?
Want to work remotely?
Want to work in a secure, cash-healthy company?
My client is a small, cash healthy company based in Surrey, UK who have built a fantastic roster of big-name clients, helping them to automate their multi-vendor network infrastructures, protect their networks from failure, increase security, manage privileged users and demonstrate compliance.
They are looking for an experienced engineer to join their small team, to help transform and grow their mature Go application. This is a company where everyone from the top down understands the tech involved.
You:
- have solid Go skills with experience in a commercial environment
- are familiar with TCP/IP networking concepts
- are comfortable working in a Unix/Linux environment
- follow secure coding practices
- have experience building APIs
- are a keen troubleshooter/bug fixer
- have some understanding of networking concepts (switching, routing, firewalls etc), since the products are focused on network devices
- have understanding of HTML, CSS, Javascript and single-page application development
- have excellent verbal and written English skills
Bonus if you have:
- Familiarity with virtualisation platforms (VMware, Amazon Web Services, Docker)
- Familiarity with other programming languages (C, C++,Lua) and/or scripting (Perl, Python, bash)
- An understanding of encryption technologies
- Passion for debugging and benchmarking
PLEASE NOTE: Visa sponsorship is NOT possible for this role - Only UK or EU Citizens based in European timezones should apply
Apply directly through Vistas Recruitment with this form
[
Privacy policy
]