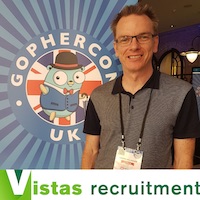 Senior Backend Go Engineer - Remote (BST - CEST)

through Vistas Recruitment
Remote

› 100% remote position (in European timezone)
(Posted Apr 18 2021)
About the recruiter
Martin was the first recruiter to specialise in Go (since 2015) and we believe the best!
He works as an independent recruiter and as such provides a highly personal and knowledgeable service to candidates and clients alike.
Trained as a software engineer, he has extensive experience in recruitment (over 25 years) and has built up a great network of companies across the UK & Europe looking to hire Gophers.
He's also active in the Go community, regularly sponsoring conferences and meetups.
Salary
£60,000 - £100,000 Per Annum
Job description
Location: Remote (UTC - UTC+1)
Type: Permanent
Salary: £60,000 - £100,000 Per Annum
Are you excited about working on distributed systems and database technologies at scale?
How about a fully remote role?
My client, headquartered in London, helps thousands of companies understand their key metrics at a glance. They have built lots of integrations with lots of various tools like Mailchimp, Salesforce, Zendesk etc.
They have asked me to find a senior Go engineer to join their backend team and work on either their platform or product team.  They are working on extending this platform and building various microservices for tracking our customers' rate limits and scheduling metric refreshes in the most efficient way possible. They're also creating a caching engine that ensures we don't waste precious API calls on data that they know hasn't changed since last time. There are lots of other interesting, tech challenges to overcome. For example, the team are also in the middle of splitting up our existing REST APIs into gRPC microservices with segregated data stores.
They offer flexible working and fully remote working within the timezones UTC+1 to UTC+1. (i.e. UK and Western Europe)
The engineering team regularly have innovation days (about once per fortnight) where you have carte blanche to work on anything that interests you.
Apply directly through Vistas Recruitment with this form
[
Privacy policy
]