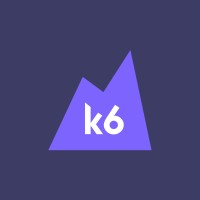 Go Engineer - k6 Open Source developer

at k6.io
Remote

› 100% remote position (in European timezone)
(Posted Jan 29 2021)
Job description
You will be one of four developers and maintainers of k6, a modern open-source tool for performance testing, written in Go. k6 was released publicly in early 2017 and has already received over 11,000 stars on Github and has an active community of users and contributors.
You will have a lot of influence on the project road map and will work with a high degree of autonomy, building and maintaining the tool.
Your responsibilities will be to both write code, extending the functionality of k6, and to maintain the code base, interface with the user community (i.e. review patches :) and potentially evangelize the tool. Your main, long-term goal will be to create the best possible tool and to get as many people as possible to use it.
You may also be involved with the k6 cloud integration, a SaaS service built on top of k6. Specifically, the parts of the cloud service written in Go, that orchestrates a distributed k6 test across 17 data centers around the world.
Due to our small teams and fast development pace, you will have a substantial and immediate impact on how the end product is architected, developed, and how the engineering team operates. Most importantly, you will work with competent colleagues and will be able to expand your knowledge and skills in different directions.
Skills required:
We are looking for a person combining very strong programming skills with experience in contributing to open-source projects.
Applicants must:
- Have a strong programming background and experience developing applications in Go
- Good technical communication skills
- Understand internet protocols well, primarily IP, TCP, HTTP but also preferably HTTP/2, SPDY, WebSockets, QUIC, gRPC
- Be familiar with modern development processes and practices. Preferably having recent experience developing large scale applications
It is great if you also:
- Have worked in open source projects, either as a heavy contributor or, even better, as maintainer for projects with multiple contributors
- Have experience working with web performance, testing & optimization
- Have experience working with network performance, testing & optimization
- Have experience working with Python and JavaScript
- Know about things like Docker, AWS, microservices architecture, DataDog/APM tools
You should have a GitHub (or similar) account where we can look at the code you have written.
k6 is a remote-first company. If you are located in Stockholm, you can work from the office, otherwise, you can work 100% remotely.
More information about us: https://k6.io/ and https://github.com/loadimpact/k6
Recruiting is ongoing. We will respond to your application immediately. If you don't have a CV ready, just send us a link to your Github/LinkedIn with a few sentences about yourself!
Note, we accept applications for only about one more week ~ February 2. Don't wait too long.