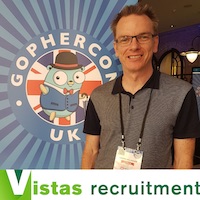 Engineering Manager - Remote - Cloud Infra

through Vistas recruitment
Remote

› 100% remote position (in Europe timezone)
(Posted Sep 1 2020)
About the recruiter
Martin was the first recruiter to specialise in Go (since 2015) and we believe the best!
He works as an independent recruiter and as such provides a highly personal and knowledgeable service to candidates and clients alike.
Trained as a software engineer, he has extensive experience in recruitment (over 25 years) and has built up a great network of companies across the UK & Europe looking to hire Gophers.
He's also active in the Go community, regularly sponsoring conferences and meetups.
Salary
€80,000 - €120,000 Per Annum
Job description
Location: Remote (+/- 1 hr CET)
Type: Permanent
Salary: €80,000 - €120,000 Per Annum
Want to manage a fully-remote infrastructure team in a 'remote-first' culture?
How about helping to building a world-class product on highly scalable architecture...
...in a well-funded, fast growing European start up?
My client offers all this and more. They are building a transportation app that already has >1m users around Europe and Africa. Their current distributed architecture In Go (Golang) built on AWS and architected with open source components such as Mesos, Docker, ZooKeeper and Kafka, orchestrates 160+ microservices, developed by 16+ teams. The company has a fantastic culture. They offer competitive salaries and great perks.
They need an experienced Cloud Infrastructure Engineering Manager to manage a fast-growing remote team to help improve the performance and reliability of their current systems. You will maintain and build the automated systems that will allow them to scale their infrastructure to support their growth and their international expansion. You will also work hard to create a healthy environment with the team where it's safe to experiment while moving fast.
So, if you are physically located +/- 1 hours from CET and you:
- Have experience of managing teams that designed and operated critical infrastructure, particularly with a broad experience across service orchestration, deployment systems and the cloud.
- Know how to balance the reliability, usability, compliance and cost of critical systems.
- Have more than 4 years of engineering leadership experience with at least 2 years managing multiple teams in various locations.
- Have already worked in a fast-paced environment within a fast-growing company.
- Have strong communication skills: You're able to interact with a variety of people, technical or non-technical.
- Have a significant track record of attracting, retaining, and mentoring top talent within the industry.
Just to re-iterate - you must be physically located +/- 1 hours of CET. It is not enough to be willing to align your working hours.
Apply directly through Vistas recruitment with this form
[
Privacy policy
]