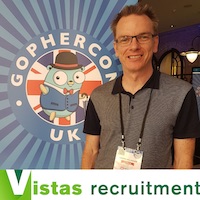 DevOps Engineer - (Visa Sponsorship Possible) through Vistas recruitment
London, United Kingdom
🇬🇧
(Posted Feb 11 2020)
About the recruiter
Martin was the first recruiter to specialise in Go (since 2015) and we believe the best!
He works as an independent recruiter and as such provides a highly personal and knowledgeable service to candidates and clients alike.
Trained as a software engineer, he has extensive experience in recruitment (over 25 years) and has built up a great network of companies across the UK & Europe looking to hire Gophers.
He's also active in the Go community, regularly sponsoring conferences and meetups.
Salary
£60,000 - £70,000 Per Annum
Job description
Location: London
Type: Permanent
Salary: £60,000 - £70,000 Per Annum
Can you create worlds where developers flourish?
Could you build environments to host IoT solutions that optimise energy efficiency?
Are you a DevOps Guru?
My client is a fast-growing company on a mission to radically reduce carbon emissions through decarbonising heat by creating and applying great technology.
They provide smart payment and data analytics systems to energy companies, housing associations and private developers. They manufacture their own embedded devices and manage their onsite Internet-of-Things networks and are proud of their award-winning team and products.
Your Mission:
To create a modern, maintainable and automated environment for their software and support services to thrive. Aiming to achieve an infrastructure that is 100% automated, built on well-established open-source software. Creating a development environment that uses a common build chain across software, monitoring and testing that is both repeatable and auditable. Designing and running the infrastructure that allows their developers to deploy microservices to production a dozen times a day.
Ensuring the highest system security from investigating and eliminating gaps or threats through to regular housekeeping – maintaining current software and operating systems. Along the way, you will also support their in-house IT decisions and technology choices.
Be part of a growing innovative business and help shape the future of energy
The skills you will need:
- Experience in Linux server administration, preferably Debian
- Software experience with Python, Golang or similar
- Hands-on experience of Continuous Integration and Continuous Development build chain,
- Problem analysis of complex software stacks (strace, tcpdump, etc.)
- Familiarity with IT Security Methods, trends and hacking techniques.
- Proficient with PostgreSQL, MySQL or similar
- Knowledge of tools such as Icinga IPtables, Nagios, Ansible, Chef and Puppet
Desirable Skills
- A good track record within dev ops. Able to create available and scalable systems
- Able to learn new software and technologies at speed
- Naturally inquisitive, actively participating in the architecture of software and hardware, recommending and implementing relevant tools and new processes
- Confident and self-motivated, comfortable within an SME, you'll have an excellent interpersonal style with the ability to quickly build strong working relationships
Other info:
This is a full time permanent role with 25 days' holiday each year.
Apply directly through Vistas recruitment with this form
[
Privacy policy
]