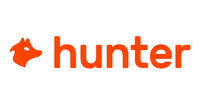 Golang Engineer

at Hunter
Remote

› 🇪🇺 100% remote position (in European timezone)
(Posted Sep 28 2022)
Please mention that you found the job at Golangprojects.com
Apply now!
Salary
110,000 - 150,000 USD
Job description
Hunter's product team is hiring a Backend Go developer! You'll become one of the key team members responsible for moving the data side of the Hunter application forward.
We're a bootstrapped and sustainable product-focused company. We've set up a great work environment for our team, focusing on autonomy and growth. We take full advantage of the fact we're entirely remote by focusing primarily on async communication and limiting the number of video meetings. Everyone in the team participates in discussions shaping the future of the product.
We love working as a small team and don't hire frequently. So this is a rare and exciting opportunity to join the team. You'll be part of the product team alongside Bastien (head of engineering), Bernardo (Backend Go developer), Mark (Ruby on Rails developer), Chris (Designer), François, and Antoine (co-founders).
**About the role**
At Hunter, we've been working from the start with one Go application (managing all our data) and one Ruby on Rails application (responding to users' requests). This setup has allowed us to be highly productive while our team stays small. We believe in always finding the most elegant way to build our product, and Go has been the ideal language to crawl, parse, and organize billions of public web pages.
As part of a small group within a young company, you will work on various projects over time, but you can expect that:
- You'll work on our main Go codebase that gathers, processes, and provides all the data of [hunter.io](http://hunter.io/).
- Within a few weeks, you'll become responsible for significant projects that will improve Hunter by building new critical features in our existing services. Over time, you'll help expand our product line.
- You'll take part in improving a crawler that processes billions of pages per month ([https://hunter.io/our-data](https://hunter.io/our-data))
- You'll work with the rest of the product team to gradually increase the importance of NLP in our data pipelines.
- You'll get a high level of autonomy in your work and help shape future development efforts.
- You'll gather feedback from our Support team to find issues in our current system and improve it.
Hunter is a fully remote team, and this is a remote job. It is open to anyone located in Europe.
**About you**
- You have multiple years of experience working with Backend Development. Ideally, you have experience in Go. If you don't, you should be confident in your ability to pick up this new skill quickly.
- You enjoy dealing with complex problems and finding elegant solutions.
- You're confident you can have a high level of autonomy and enjoy making decisions for yourself.
- You're excited to take ownership of projects, set directions, and make calls. You're able to communicate clearly with your colleagues.
- You have experience in remote working. You're comfortable working primarily with asynchronous communication and don't need a lot of handholding or supervision.
**About us**
Salespeople, marketers, and recruiters use [Hunter](https://hunter.io/) to reach out to the people that matter for their business. We index B2B data from millions of public web pages and make it convenient to explore with simple but powerful tools.
Hunter is the most popular solution to find professional email addresses. It is used by almost 3 million people and leading companies such as Google, Adobe, Microsoft, or IBM.
Hunter was founded in 2015 and is a self-funded company. We're a team of [11 people](https://hunter.io/about) working remotely from Europe, America, and Asia. Twice a year, the team meets in a company retreat in Europe.
Learn more:
- [How We Hire](https://hunter.io/blog/how-we-hire/)
- [About Us](https://hunter.io/about)
- [Engineering Blog](https://hunter.io/engineering/)
**Benefits**
Being part of Hunter will also get you:
- A yearly gross compensation ranging between 110k and 150k USD
- Five weeks of paid vacations per year
- Employment status (you won't be a contractor)
- Coworking space membership
- Fully-paid setup (including a MacBook Pro, standing desk, ergonomic chair, etc.)
Please mention that you found the job at Golangprojects.com
Apply now!