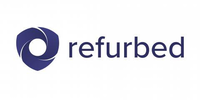 Senior Go Backend Developer (m/f/x)

at refurbed
Remote

› 100% remote position (in Europe timezone)
About the company
Here is why you should apply:
Salary
49000 - 84000 EUR
Job description
We are the fastest-growing marketplace for refurbished electronics in the German-speaking region. Our products save up to 70% of CO2 emissions in comparison to a new device and are also up to 40% cheaper. Additionally, for every sold device we plant a tree and we were already able to plant more than 200,000 trees to fight global warming.
We were founded in February 2017 and grew to more than 80 employees in less than three years and expanded to Italy and Poland already. Along the way we won several awards and have already sold tens of thousands of products, making us one of the fastest-growing startups in Europe in 2020. Additionally, we recently announced one of Austria's biggest Series A funding rounds of € 15.6 mn.
Our main system consists of an HTTP API and backend workers written in Go, a public interface serving HTML pages to our customers written in Go and connecting to our API, Vue.js interfaces embedded into our public interface, and a standalone Vue.js management interface.
Key technologies are: Go, Vue.js, PostgreSQL, RabbitMQ and AMQP.
Together with you we want to build the leading marketplace for refurbished electronics in Europe.
YOUR ROLE
- Development of our main API
- Development of our smaller backend services
- Integration of external systems into our platform
YOUR PROFILE
- Formal education in computer science
- Significant experience designing and implementing backend services
- Significant experience with software development in Go
- Good knowledge of SQL and relational database design
- You work independently and goal oriented
- You have excellent English skills
ADDITIONAL FACTORS WE APPRECIATE
- You have experience with PostgreSQL
- You are comfortable working with Linux and FreeBSD
- You have experience working with backend services like Nginx or RabbitMQ
- You have experience working with load balancing/failover infrastructure
- You are active in the open-source community
- You can speak German
YOUR BENEFITS
- Startup atmosphere
- Remote position
- Flexible working hours
YOUR APPLICATION
- Fair compensation
- Collaboration with all parts of the company
- Home office
- Experienced and ambitious team
Please send us representative examples of your work, like of open-source projects you contributed to. If you are active in communities like Stack Overflow, please let us know.
Payment, depending on qualification and experience, between 49,000EUR and 84,000EUR gross annually.