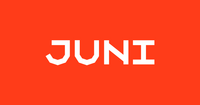 Senior Backend Engineer - Payments

at Juni
Remote

› 🌐 Worldwide, 100% remote position
(Posted Oct 7 2022)
Please mention that you found the job at Golangprojects.com
Apply now!
Salary
90.000 - 130.000 EUR + equity
Job description
Juni who? 👋
We're Juni. The fastest-growing fintech startup in Europe. We're born remote, built for remote work, and busy building the future of financial services for ecommerce entrepreneurs.
What we do 🤔
Think of us as the financial companion made for ecommerce. We're building an all-in-one platform that helps ecommerce entrepreneurs understand their business better, improve decision-making, scale up, and unlock the full potential of ecommerce. We even finance their working capital to help achieve their goals and dream up new ones.
How & why we do it 🚀
We give our people the same thing we're building for our customers: freedom. Freedom to work wherever there's good Wi-Fi. Freedom to be 100% yourself. Freedom to explore your potential and what's more – make the most of it. We truly believe we're making the world a better place for ecommerce, and we want you to be a part of that mission.
Your role 🙋
Tackle convoluted problems and develop clean, stable solutions that scale. The ideal candidate would be someone who has a genuine passion for designing and implementing elegant software solutions. They would also be intimately familiar (and up to date) with their development ecosystem for making sound decisions when it comes to choosing the right tool or library for the job. We expect our engineers to be able to contribute across the entire product stack, as well as collectively oversee the integrity of the codebase.
Your responsibilities 💪
In this role you'll be:
Writing scalable, robust, testable, efficient, and easily maintainable code
Translating software requirements into stable, working, high-performance software
Playing a key role in architectural and design decisions, building toward efficient microservices distributed architecture
Within 1 month you'll:
Introduce an important architectural improvement to our Go codebase
Within 3 months you'll:
Help other web backend engineers say they're learning a lot and are more productive because of you
Have helped us build new features quicker than we otherwise would have - our velocity has increased significantly
Within 6 months you'll:
Help introduce significant new features which radically improve our product.
Impact the quality of the product, getting to the point where we fix all bugs and are improving performance metrics
Be proud of the product and the codebase
Your qualifications 👨‍🎓
What we need to see:
Experience developing, monitoring, and improving microservice architectures
Knowledge of designing and implementing public and private APIs (gRPC/REST)
Experience with CI/CD
Stellar communication skills in English
What we'd love to see:
Strong knowledge of Go programming language, paradigms, constructs, and idioms (we are open to candidates who have strong programming knowledge in other languages but want to work in Go!)
Knowledge of security and/or devops best practices
Experience within the Payments domain.
Your tool stack 💻
Mac. Chrome. Even… Windows. Choose the hardware that helps you work best. We'll also support whatever software you need. From Miro to Slack and everything in between.
Tech stack
React, Javascript/Typescript
Go
gRPC (Protocol buffers)
PostgreSQL, Redis
Kafka
Docker, Kubernetes
AWS
Your people 👥
Forget office-based culture. This is people-first culture. We're real. We never wait. We care deeply about building a better future for our customers and each other in a way that's never been done before. Here, you can work with people at the top of their game and who didn't get there by playing games. You can help us change business for ecommerce entrepreneurs, change the world – wherever in the world you may be.
Your benefits 😍
We're born remote-first. Transparent. Caring. Empowering. So our benefits are too.
Hello work. Meet freedom. Join us anywhere within 6 hours of Sweden time zone.
Swap 2D for 3D. Meet the team IRL at two in-person onsites per year.
Diversity is at our core. We're Part Swedish. Part Canadian. Part French. Part Malaysian. Part Italian. Part Nigerian. Part British. Part Turkish. You get the idea.
Great players can stay great players. Progress your career whether you choose to manage people or not.
Happiness stipend. The best things in life are free. But money can buy you a herd of puppies. Get €8,500 per year to spend on whatever makes you happy.
Work al desko. Get €500 a month towards a co-working space.
Stock options. We can't promise you'll make a fortune. But we'll give it our very best shot.
Vacation days. At least 30 per year as standard. Awesome.
Global health insurance. You know. Just in case.
Get sick? No stress. Feel better with unlimited paid sick leave.
We are here for you. Unlimited access to mental health support via Spill.
Work with the best people for the job. Not the best people within 1 hour's commute.
Get support to switch things up. People change. Careers can too.
Free your nine to five 🤘
Hit apply and help us revolutionise financial services for ecommerce entrepreneurs.
The process 📅
CV screening > Get to know us call > Team interview(s) > Values interview > Offer (for some roles we'll include a task, but we'll notify you if this is the case)
Please mention that you found the job at Golangprojects.com
Apply now!