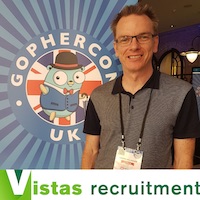 Go Software Engineer - Fully Remote

through Vistas Recruitment
Remote

› Worldwide, 100% remote position
(Posted Mar 16 2021)
About the recruiter
Martin was the first recruiter to specialise in Go (since 2015) and we believe the best!
He works as an independent recruiter and as such provides a highly personal and knowledgeable service to candidates and clients alike.
Trained as a software engineer, he has extensive experience in recruitment (over 25 years) and has built up a great network of companies across the UK & Europe looking to hire Gophers.
He's also active in the Go community, regularly sponsoring conferences and meetups.
Salary
$70,000 - $120,000 Per Annum
Job description
Location: Fully Remote
Type: Permanent
Salary: $70,000 - $120,000 Per Annum
Fancy working on 100% Open-Source project?
Want to be part of a world-wide, remote-first company?
Confident with Go, distributed databases and Kubernetes? My client is a respected leader in the open source community, helping users globally with services focussed on open source databases. They have a fantastic culture, flexible working and are committed to growth and development of their staff - funding certifications, conferences, training etc.
They have asked me to find an engineer with an in-depth knowledge of distributed databases and/or Kubernetes, to help one of their teams expand their services within the Kubernetes ecosystem.
You can be based anywhere, but must be able to make daily team meetings which happen at 2pm GMT+2.
You will get involved with:
- building and implementing Kubernetes Operators for relational and non-relational databases
- architecture and design of new features
- blogging, conference speaking ideally
You should have:
- At least 5 year's engineering experience
- Strong commercial Go experience
- Strong understanding of building clusters for PostgreSQL, MongoDB, or MySQL
- Strong Kubernetes understanding
This is a fantastic opportuity to work on a 100% open-source project.
For more details apply now or email martin@vistasrecruitment.com for more details.
Apply directly through Vistas Recruitment with this form
[
Privacy policy
]