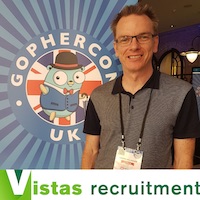 Senior Go Engineer

through Vistas Recruitment
Remote

› 100% remote position (in European timezone)
(Posted Dec 21 2021)
About the recruiter
Martin was the first recruiter to specialise in Go (since 2015) and we believe the best!
He works as an independent recruiter and as such provides a highly personal and knowledgeable service to candidates and clients alike.
Trained as a software engineer, he has extensive experience in recruitment (over 25 years) and has built up a great network of companies across the UK & Europe looking to hire Gophers.
He's also active in the Go community, regularly sponsoring conferences and meetups.
Salary
$100,000 - $150,000 Per Annum
Job description
Location: Remote (UK/EU)
Type: Permanent
Salary: $100,000 - $150,000 Per Annum
Want to work in a fully-distributed engineering team?
Want to use Go to disrupt the real-estate industry?
My client, a start-up hoping to disrupt the real-estate industry, has asked my to find an experienced Golang engineer to support their rapidly growing organization. In this role, you will collaborate closely with data analysts, frontend engineers and cross-functional partners across their product, design, and quality assurance teams to contribute to and build out their strategic initiatives.
Responsibilities
Your role is to collaborate with the team to deliver on these objectives and contribute to evolving their platform's infrastructure to meet expanding scope and scale.
Specifically, you will:
- Contribute to large, complex projects in a team, providing technical reviews and execution
- Participate in project kick offs and translate projects requirements into technical specifications for implementation
- Define new and expand existing data models, including database schema and object models in the data access layer
- Implement any required business logic in the service layer
- Implement enhancements to our asynchronous task worker infrastructure
- Define and implement API endpoints, collaborating with front end engineers
- Write integration and unit tests for your code and perform code reviews for colleagues
- Provide technical support for stakeholder groups such as customer success
- Participate in monitoring, diagnosing, and addressing production issues
Requirements
- 2+ years of professional experience working with Golang
- Significant experience with SQL database schema design and query optimization
- Experience with AWS is a plus
PLEASE NOTE: Visa sponsorship is NOT possible for this role - Only UK or EU Citizens based in European timezones should apply
Apply directly through Vistas Recruitment with this form
[Privacy policy]