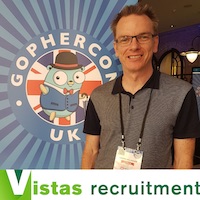 Head of Engineering through Vistas recruitment
London, United Kingdom
🇬🇧
(Posted Mar 7 2020)
About the recruiter
Martin was the first recruiter to specialise in Go (since 2015) and we believe the best!
He works as an independent recruiter and as such provides a highly personal and knowledgeable service to candidates and clients alike.
Trained as a software engineer, he has extensive experience in recruitment (over 25 years) and has built up a great network of companies across the UK & Europe looking to hire Gophers.
He's also active in the Go community, regularly sponsoring conferences and meetups.
Salary
£80,000 - £120,000 Per Annum (PLus Equity (1-5%))
Job description
Location: London
Type: Permanent
Salary: £80,000 - £120,000 Per Annum (PLus Equity (1-5%))
Want to build a next generation e-commerce Fulfillment-as-a-Service platform?
Fancy working with 2 co-founders with a proven track record in e-commerce and last mile delivery industry?
Does playing a major part in a start-up adventure excite you?My client is a well-funded, London-based start up which wants to build a next generation Fulfillment-as-a-Service(FAAS) platform aimed at small-to-medium e-commerce sellers, alowing them to outsource their storage, fulfilment, delivery, and returns and focus on what is more important: growing their businesses. This is an under-serviced sector of the market and therefore the potential for success is huge.
The 2 co-founders have a considerable track record in this field having played a significiant part in building some houshold names in the industry. 
They are looking for a hands-on Head of Engineering to:
- Build their Fulfillment-as-a-Service platform, starting with the MVP (Minimum Viable Product)
- Lead technology strategy, develop the technical solution, the architecture, the integration with other processes and systems and develop the Artificial Intelligence engine that manages our processes
- Own the engineering product roadmap, prioritising development efforts in line with company objectives
- Build a world class tech team: Hire, onboard and develop the best talent and cultivate an inspiring team culture with us
Requirements:
- 5 years+ experience of software and technology development, ideally 2 years+ in a startup
- Experience in developing technology for e-commerce, logistics, last mile or supply chain
- Experience with Go (Golang)
- Experience in back-end integrations, APIs and microservices, cloud architecture fundamentals (AWS or Google Cloud), databases
- A charismatic technology leader: Experience in hiring, managing and leading engineering teams
You must be eligible to work in the UK/EU to apply. No visa sponsorship available.
Apply or get in touch for more details: martin@vistasrecruitment.com
Apply directly through Vistas recruitment with this form
[
Privacy policy
]