Golang / Go Projects
About Golangprojects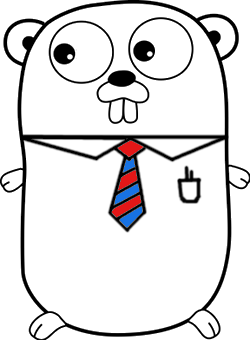 Here you will find open positions (freelance and permanent) for Go / Golang programmers / developers / engineers.
You can
submit jobs
(its free, and no registration necessary).
If you need to correct / delete a job offer, please use
use this form
and it will be processed asap.
I modified the gopher, added a tie & pocket for his pens. The gopher is the Golang mascot/logo created by
Renée French
, the logo and mascot are covered by the
Creative Commons Attribution 3.0 license
.
You can follow Golangprojects at

Twitter
,

Facebook
and

Google+
. There is also an

rss feed
.
Created by a freelancing software engineer
I am a polyglot software engineer, the last years I have mainly developed in Python, Golang, Php, Javascript and Java.
At the moment I am working remotely for the New York City based
stock media marketplace Pond5
, past companies I worked for are among others
Excite@Home
, Panasonic, Airbus and others, mainly internet, companies.
I have had numerous internet projects over the years, for example
gphangouts
that got featured on Techcrunch, Mashable and numerous websites/magazines.
Although I am technically a freelancer, so far I usually ended up working long term for companies, so feel free to get in touch even if you are looking for permanent employees.
You can find me on
Linkedin
,
Twitter
and
Google+
.
If you need to contact me,
use this form
and I will get back to you by email.