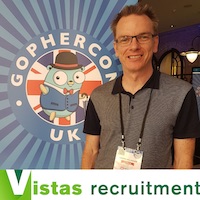 Lead Backend Engineer - Remote - FR/IT/ESP/DE

through Vistas Recruitment
🇫🇷

France

›

France/Spain/Italy/Germany
(Posted Jun 2 2021)
About the recruiter
Martin was the first recruiter to specialise in Go (since 2015) and we believe the best!
He works as an independent recruiter and as such provides a highly personal and knowledgeable service to candidates and clients alike.
Trained as a software engineer, he has extensive experience in recruitment (over 25 years) and has built up a great network of companies across the UK & Europe looking to hire Gophers.
He's also active in the Go community, regularly sponsoring conferences and meetups.
Salary
€70,000 - €90,000 Per Annum (Plus Stock Options)
Job description
Location: France/Spain/Italy/Germany
Type: Permanent
Salary: €70,000 - €90,000 Per Annum (Plus Stock Options)
Want to work in one of Europe's hottest scale-ups?
Do you enjoy helping people grow? My client is a new business bank - focussing on SMEs. They are extremely well funded and have gained over 150,000 clients in 3 years. Their aim is to create a bank that companies will LOVE to use - easy, efficient and hassle-free. They are currently in a growth phase and need people with leadership ability and experience to support this growth.
They have asked me to find a hands-on, lead engineer to manage a team of 6-8 backend engineers. You will get involved in defining a vision and strategy for your team, in co-ordination with engineering, product and design leads. You will be a key contributor from a coding standpoint as well as having responsibility for interviewing/hiring new team members.
Their primary languages on the backend are Golang and Ruby. Their platform runs on a Kubernetes cluster hosted on AWS, with PostgreSQL as their database. On the frontend they use EmberJS with Kotlin and Swift for their mobile applications.
You should have:
- excellent Go and/or Ruby experience
- a passion for mentoring and building a collaborative environment
- an ability to anticipate and solve problems
- an ability to communicate with both technical and non-technical people
You must be based in France, Italy, Spain or Germany to be eligible for this role. You will have permanent employee status.Visa Sponsohip is available
They have a fantastic work environment and culture and plenty of perks.
Apply directly through Vistas Recruitment with this form
[Privacy policy]